What Is Internet Marketing?
Internet marketing, or digital marketing, is the promotion of your firm's website and services online. It relies on a variety of channels to help boost brand awareness, get more traffic to your firm's site, and generate more leads.
Internet marketing has a variety of marketing channels or strategies that all fall under the umbrella term.
Attorney Internet Marketing Strategies
There are different strategies your firm can you to optimize your internet marketing. They include Search engine optimization (SEO), pay-per-click (PPC), social media, and email marketing.
Search Engine Optimization (SEO)
SEO refers to the organic traffic your firm's website receives. Anyone who didn't click on an ad on the search engine results page (SERP), would be considered organic traffic. The more you work on your firm's SEO, the higher you may appear on the SERPs. This can lead to more traffic to your site, resulting in an increase of leads and clients for your firm.
There are a few different ways to optimize your firm's website to rank better organically. These include:
Adding internal links (Links from one page on your site to another.)
Updating old content based on keyword research
Uploading new content regularly
Trying to gain featured snippets (Such asPeople Also Ask feature on Google, or a paragraph of text answering someone's question on the SERPs.)
Getting more backlinks (When another site links to your firm's site.)
Showing your expertise and authority in your area of law
Optimizing for local SEO
Adding your firm to business directories
Using a combination of these strategies, your firm can improve your overall organic traffic and increase your leads and clients.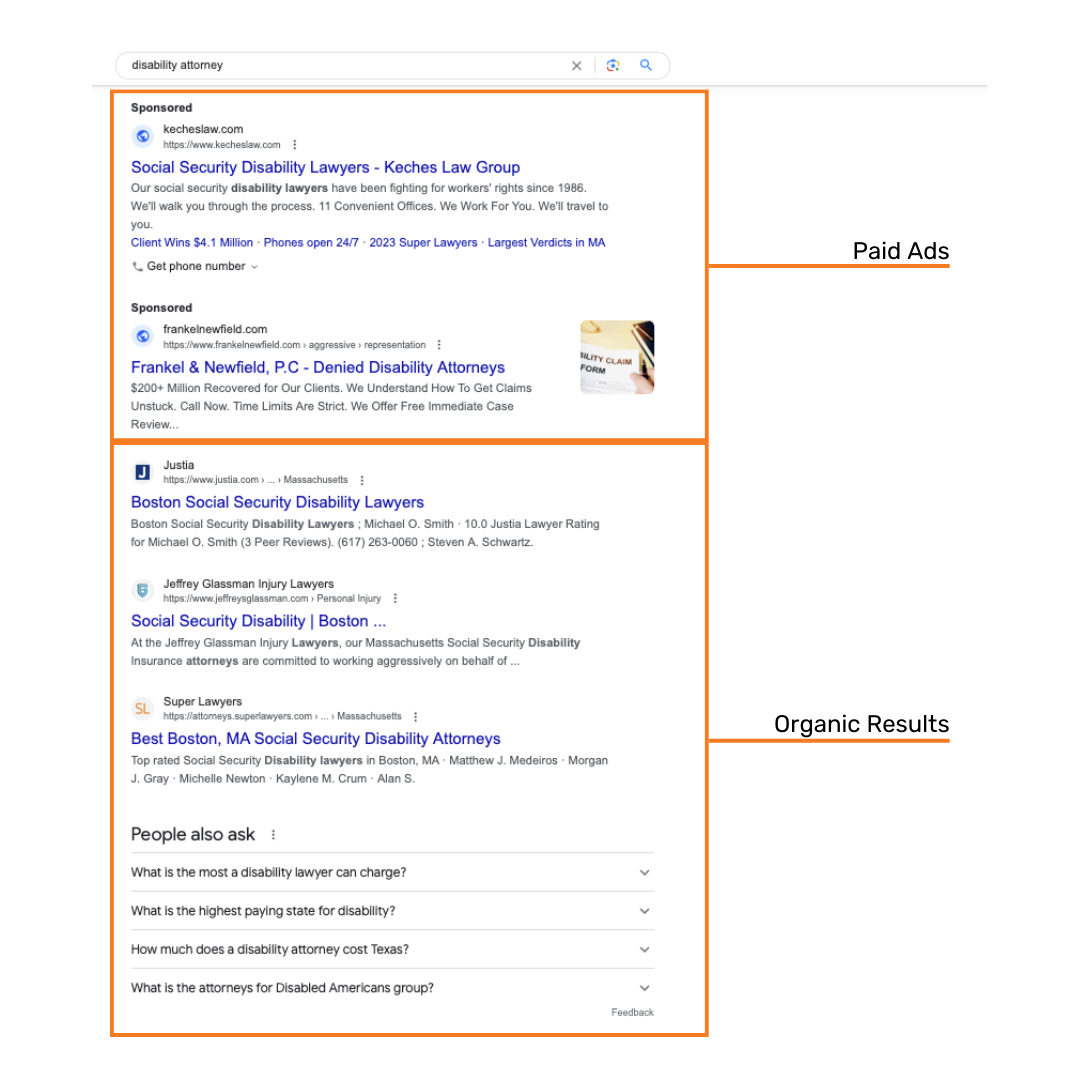 Pay-Per-Click (PPC)
PPC, or paid search, refers to running online advertisements to your firm's site. These appear on the top of the search results before any organic results. If someone clicks on your ad, then you pay for the click. Your firm can bid on different keywords you'd like your ads to appear on and can set your own bid and spending costs.
There are many different types of ads on Google your firm can choose from. These include, but are not limited to:
Search ads (Ads you see on Google search results.)
Display ads (Ads on other websites.)
Local Service Ads (Ads for pre-screened businesses near the customer.)
Retargeting Ads (Ads that follow a customer who visits a specific webpage or searches a specific keyword.)
Video Ads (Ads on YouTube or other video platforms.)
Discovery Ads (Similar to display ads, these can appear on Gmail, or other placements within the Google feed.)
Other search platforms, like Bing and Yahoo, have options to run ads as well. To determine what type of ad is the best fit for your firm, you'll need to consider your audience as well as your firm's budget.
Social Media
Social media, such as Instagram, Facebook, LinkedIn, or Twitter, can play a big part in an attorney's internet marketing strategy. Keeping active profiles on social media can help increase your firm's SEO. As you post blogs to your firm's site, you can share them across social media. This can help increase interactions with your posts and gain more popularity.
Not only can social media help your firm's SEO, but you can also engage with potential clients, build brand awareness, and help promote your firm. You can even run ads through most social media platforms.
Before jumping into social media, your firm should consider it's target audience. If your firm's ideal client is younger, then TikTok or Instagram may be the right social media platform for you whereas someone with an older target audience, like a Social Security law firm, may want to focus on Facebook. Once accounts are created, you can begin interacting with potential clients and promoting your firm.
Email Marketing
Email marketing is another important strategy of attorney digital marketing. With each email sent, you're able to reach more potential clients or reconnect with old clients.
As you email past clients, you can take advantage of their experience with your firm. Create an email marketing campaign asking for a review on your Google My Business or for them to refer you to friends and family who may need your services. These reviews can be used to help gain new clients or be used throughout your marketing efforts.
Why Should Your Firm Invest in Internet Marketing?
Creating an internet marketing strategy for your firm can only benefit your business. It can help create visibility for your brand, leading to more leads and ultimately clients. While firms may have been able to rely on more traditional forms of marketing in the past, an online presence is becoming more and more important as consumers switch to finding solutions and businesses online. Creating a digital marketing plan that works for your firm's goals is vital to your firm's success.
Working 3rd Party Tools Into Your Digital Marketing Strategies
Many aspects of Internet marketing can take time to see results. SEO and social media can take months, if not years, to grow. Paid ads require constant monitoring to keep costs affordable. To supplement your caseload while fine-tuning your firm's marketing, consider using a legal lead provider like eGen.
We manage the lead generation campaigns so your firm doesn't have to. We send legal leads to your firm in real-time. As soon as a lead fills out our Free Case Evaluation form, the lead's contact information and case descriptions are sent directly to your firm, and only your firm.
Contact eGen today to learn about how our Social Security, employment law, personal injury, or workers' compensation leads can help your firm while you establish your digital marketing plan.