As an attorney, you know one of the most challenging components of winning cases can be organizing the leads you've received, and converting them into new clients.
Without case management software, the process of signing new clients can be messy. Paperwork can become lost in the mail, you may not be able to keep track of who's even returned your retainer packages, and it can be hard to remember which contacts are associated with your cases.
Fortunately, there's an easier way. eLuminate, eGenerationMarketing's lead and case management software, was designed to help you easily keep track of your signed clients. The best way to start the process of winning a case after signing a client is to convert your lead to a matter.
What are matters, and why are they important?
Your matter is your pending case. Matters are completely different from leads because a lead is simply an unsigned potential client. Matters can have numerous people associated with them: Your client, witnesses to an accident, doctors, judges and ALJs, and more.
After you've signed a new client, your first step should be to convert your lead into a matter. You can do this by selecting "√ Convert" in the upper right-hand corner of the screen. You will then see a second window confirming that you want to convert the lead: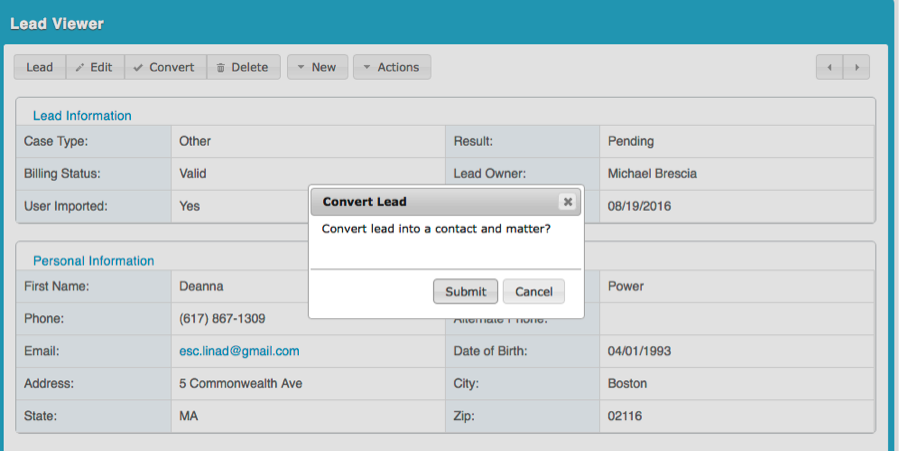 It is very important to never convert a lead before you've signed a client, because once you do, you will not be able to edit the lead anymore. Instead, your lead will become a contact and a matter, both of which will have the same name as your original lead.
But why convert a lead in the first place?
As an attorney, you know there are far more moving parts to a claim than simply the claimant. Once you convert your lead to a contact and a matter, you will be able to connect all parties associated with a pending case to your matter. A matter is basically your "Grand Central Station"; it connects all components and associates related to your case to one convenient location. Additionally, you can use custom views to group your pending cases. Some views that come preloaded into eLuminate include:
Appeal Initial Denial and Appeal Reconsideration Denial—great for determining which cases could generate a lot of back pay if you are a Social Security disability firm.
Contact Today—All of your cases that need to be called or emailed, whether it's to schedule a time to rehearse before a trial or contacting a doctor for medical records.
Pending Decisions—Your cases that have gone to trial, but have not been decided upon yet.
Pending Fees—Cases that have been won, but you're just awaiting payment!
These are just a handful of the preinstalled views that come with eLuminate, and you can always create your own! eLuminate is highly customizable, so you can segment your matters by whatever is important for your firm.
eLuminate is available for any of our current lead generation clients. Would you like to learn more about how eLuminate can streamline the process of signing leads to clients when you purchase legal leads? Give us a call today at 617.800.0089. We'd love to schedule a free eLuminate demo with you and your staff to demonstrate some of eLuminate's most powerful features.