Pigeons might be the scourge of statues everywhere, but there's one type of pigeon that could affect your law firm: the Google Pigeon update. Pigeon was an update released back in 2014 to improve local search quality; think of "disability lawyers near me" as an example.
Google relies on distance, location, and other factors to provide relevant listings to its users. One of the biggest changes was that Pigeon favors local businesses rather than individual websites in its web results.
The Pigeon update also made some drastic changes to how local businesses were listed: Rather than a list of seven local results, it lists what's called a "local 3-pack", based on Google Maps results instead.
This has drastic effect for law firms. Searching for "Social Security lawyer" on Google returns some well-rated firms in the local 3-pack, but the majority of the web results are likely to be authoritative directories like Avvo, Justia, and FindLaw, among others.
How can a local law practice compete with that? While it might seem daunting, there are some definite steps you can take to make sure your business stands out in local results.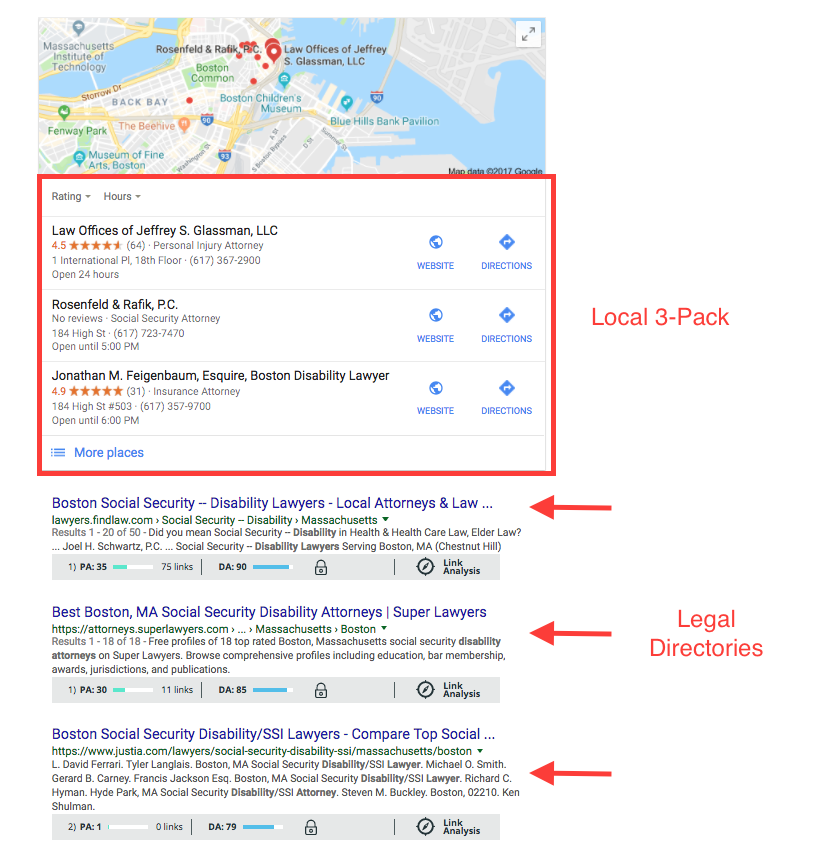 Getting Your Law Firm in Local Search Results
One of the first things you can do to optimize for Pigeon is to set up a Google My Business account. It's free, and it helps you take control of the information Google lists for your firm.
It's important to note that Google has guidelines for business listings*, and specific guidelines for lawyers, but the basic guidelines are straightforward:
Represent your business like you would in the real world – if it's the name that you use on your letterhead or a sign, you should use that for your Google My Business listing
Ensure that your address is accurate (You can add multiple listings for multiple locations)
List your business only for the categories that describe your core business ; don't try listing yourself for other areas of law that you don't specialize in
It's important to follow these guidelines, as Google can and does penalize organizations that partake in unsavory tactics like stuffing keywords into their business names, use other businesses' addresses, and trade fake reviews with colleagues.
After you've claimed your business, it's time to get some reviews! Reach out to former satisfied clients and ask them for reviews for your listing.
While it can seem like an exercise, having good reviews is a great indicator of trust–if your former clients will go to bat for you, it'll help show the quality of your firm to both Google and prospective clients. Furthermore, you should make sure to respond to any bad reviews if needed.
Another thing you can do is add yourself to the legal directories that take up the regular search results–after all, if you can't beat them, why not join them? Many of them are free to list your practice. However, it's important to note that while it's free to list your practice, you're not in control of the site's content, what search terms the directories rank for, and you may not have control over how your listing is displayed in relation to other firms.
This can lead to possibly incompatible leads being sent to your firm.
Is Ranking for Local Search Enough?
While local search is a crucial part of getting prospective clients to contact you, it's all contingent on people in your area having ample demand for your legal expertise.
If you're a regional or national firm, it might not be sufficient to make sure that people can find you in your hometown, and it can be challenging and expensive to market to clients out of your geographic area.
If this is the case for your firm, you may find that purchasing high-quality, geographically targeted leads might be more cost effective. eGenerationMarketing can provide exclusive legal leads in a wide range of practice areas, including personal injury, Social Security disability, employment law and workers' compensation. Give us a call at 617.800.0089 to discuss our availability in your area today.
*Source: https://support.google.com/business/answer/3038177?hl=en