eGenerationMarketing offers exclusive Social Security disability, personal injury, workers' compensation, and employment law to attorneys and advocates across the country. To combat the challenge of connecting with legal leads and signing cases, we also offer live transfers between firms and new leads for free.
Live transfer places a call to the phone number your lead listed and gives your lead the option to be connected with your firm. Leads received through live transfer may convert better for your firm because you're connected with a claimant the moment they decide they want to speak to an attorney.
To better illustrate how much live transfer can increase your firm's profitability, you can use Live Transfer Reports in eLuminate, eGeneration's case and lead management software.
Live Transfer by Total
This is the first view you'll see within the Live Transfer Report. It will give you a quick overview of how many calls were placed to your leads, what percentage of leads chose to be transferred to your firm, and what percentage of your leads were connected to someone in your call staff.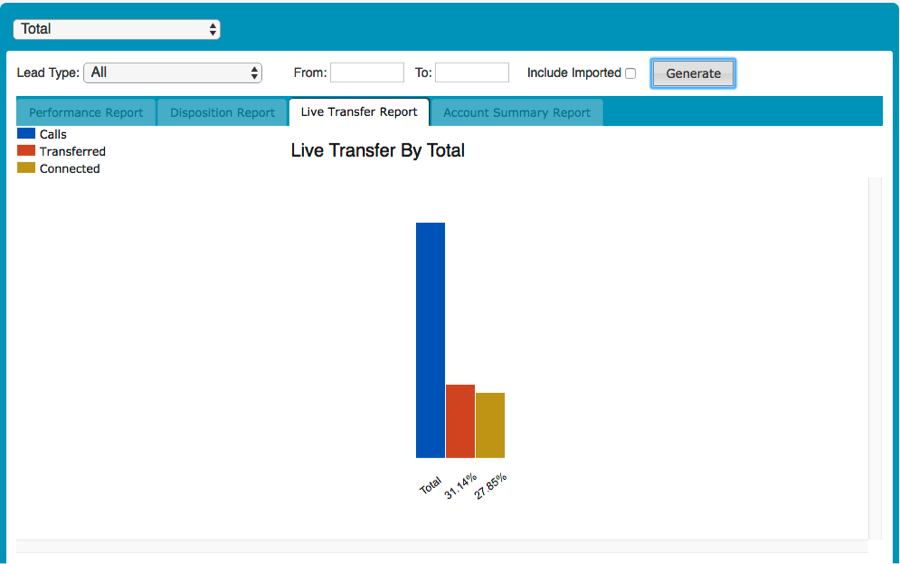 This firm has about one out of three leads choose to be connected with a member of the intake staff, and the majority of leads who choose to contact the firm speak with a member of the intake staff.
At a glance, this firm is doing a great job with live transfer leads because they are connected with most callers. This means they typically have at least one person available to handle incoming calls. If you're a solo practitioner, live-transfer calls may not be as successful for you as a firm with a dedicated intake staff. It's possible you'll receive a call while in a hearing or away from your phone. Regardless of the size of your staff, live-transfer leads save you the extra step of contacting your lead later.
Drilling Down Views
You can see your firm's performance with live-transfer leads by more views than simply your total. For example, you can view your live transfer success by what day of the week you received the lead, or what hour of the day your lead was transferred.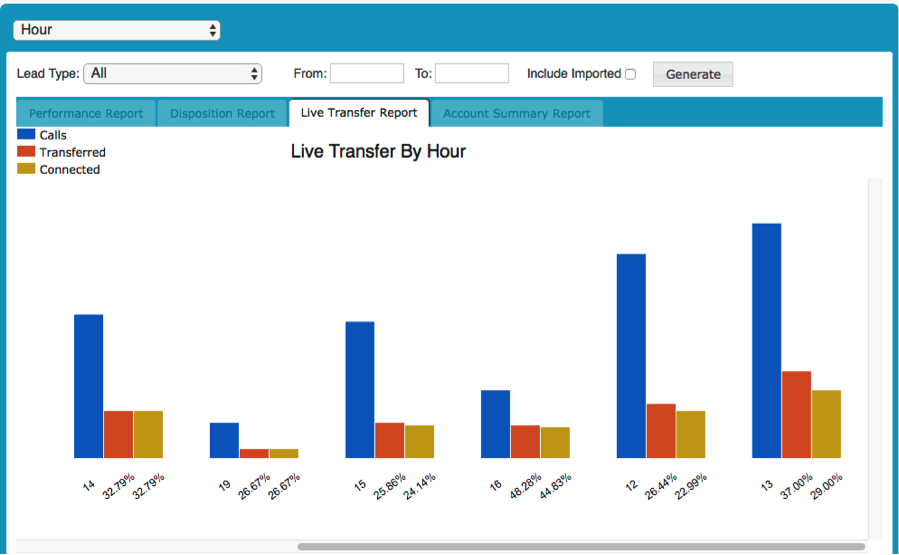 The times are listed in Military time (24 hour), and they are always displayed in EST. In this example, we can see leads that were sent at 2:00 PM, 7:00 PM, 3:00 PM, 4:00 PM, 12:00 PM, and 1:00 PM EST.
In this report, we can see that most leads are transferred to the firm at 1:00 PM EST. More than one out of three claimants choose to speak with a legal professional, but nearly 10% of these leads are never connected with someone. This firm should consider having one more member of the intake staff available at 1:00 PM to better handle the higher volume of callers.
If your firm chooses to receive leads via live-transfer, you can use eLuminate's Live Transfer Report to determine exactly when you need more hands on deck to handle calls. Once you can determine when you'll have more leads sent to your firm, you can ensure that you dedicate enough resources to your intake staff to increase your profitability with third-party leads.
Would you like to discuss how eLuminate, our case management software, can help you sign more cases? Give us a call today at 617.800.0089 to set up a free tutorial and learn more about eLuminate.