One of the biggest challenges of running a successful law firm is keeping track of your employees' day-to-day activities. eLuminate, eGeneration's case and lead management software, was designed with efficiency in mind. eLuminate's homepage helps you organize events and meetings, see which staff members are available, what leads you have coming in, and more.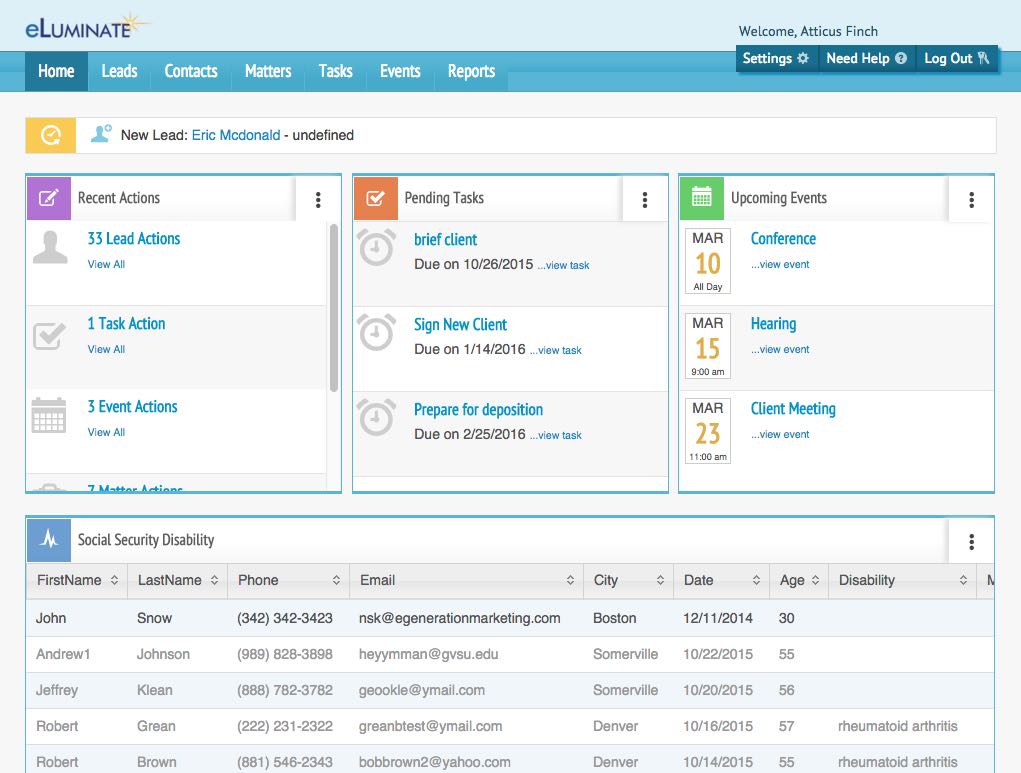 This is eLuminate's homepage. The first thing that appears is the yellow notification bar at the top left-hand side of the screen. This allows you to see any new leads that have been added to your account, or see any upcoming meetings or events. In this case, Eric McDonald is a new lead. If you wish to contact your lead immediately, you can simply click on Eric's name and you will be taken to his view. From there, you can send him an email directly through eLuminate or give him a call.
Directly below the notification bar are three categories:
Recent Actions
Pending Tasks
Upcoming Events
All of these sections have their own benefits.
Recent Actions
Recent Actions shows you what your staff is working on. You can go through your Lead Actions and see which leads have been contacted. You can also see any new events that have been scheduled or if any leads have been signed as cases and converted into matters. Seeing what leads or matters have been modified helps you know what your team is working on as well as how many new leads or clients you have.
Upcoming Tasks
The second category is Upcoming Tasks. This will easily let you know what is on your to-do list. In our example, the attorney Finch has to brief a client by the 26th, have a client sign paperwork by the 14th, and prepare for a deposition by the 25th. Tasks are great for your firm to use when delegating work, such as sending out Social Security medical release forms on behalf of clients, or sending retainer packages to personal injury leads.
Upcoming Events
The third and final category is Upcoming Events. Events are different than tasks because events are associated with a specific time. Our attorney has a conference he needs to attend on the 10th, a hearing on the 15th, and a meeting with a client on the 23rd. Events are great for improving the efficiency of your firm because they are an easy way to remind yourself of what's going on in your calendar. On top of appearing on the eLuminate homepage, you can set events to send email reminders to participants. Whether it's 10 minutes or two full days ahead of time, events keep you from forgetting any important hearings, calls, and more.
eLuminate is highly customizable, so you are able to reorder which view you see first on your homepage. If you use eLuminate primarily for tasks and events, you can have them appear before your Recent Actions. Reorder the Recent Actions, Pending Tasks, and Upcoming Events to whatever makes the most sense for your firm's needs.
If you'd like to learn how eLuminate's homepage can help improve your firm's efficiency, contact us or give us a call today at 617.800.0089.