Determining how to attract the right claimants to your firm's site can be challenging. Fortunately, there are some free digital tools available that could help. Google Trends (https://trends.google.com/trends/) gives you a visual representation of how many searches any given keyword receives over time. Google Trends can be used to identify legal trends online and catering your website accordingly.
What Is "Google Trends?"
Google Trends is a free search exploration tool that allows you to compare the popularity of one keyword compared to another, or a history of its search popularity over time. It's important to note that Google Trends does not give you any numbers, so you will not know exactly how many people are searching for keyword you enter. You can get a rough estimate for search volume if you purchase paid ads on Google, but otherwise, you'll need to use Google Trends as a basic starting point for your digital marketing campaign.
For example, let's take a look at an example for three commonly used keywords for Social Security disability attorneys: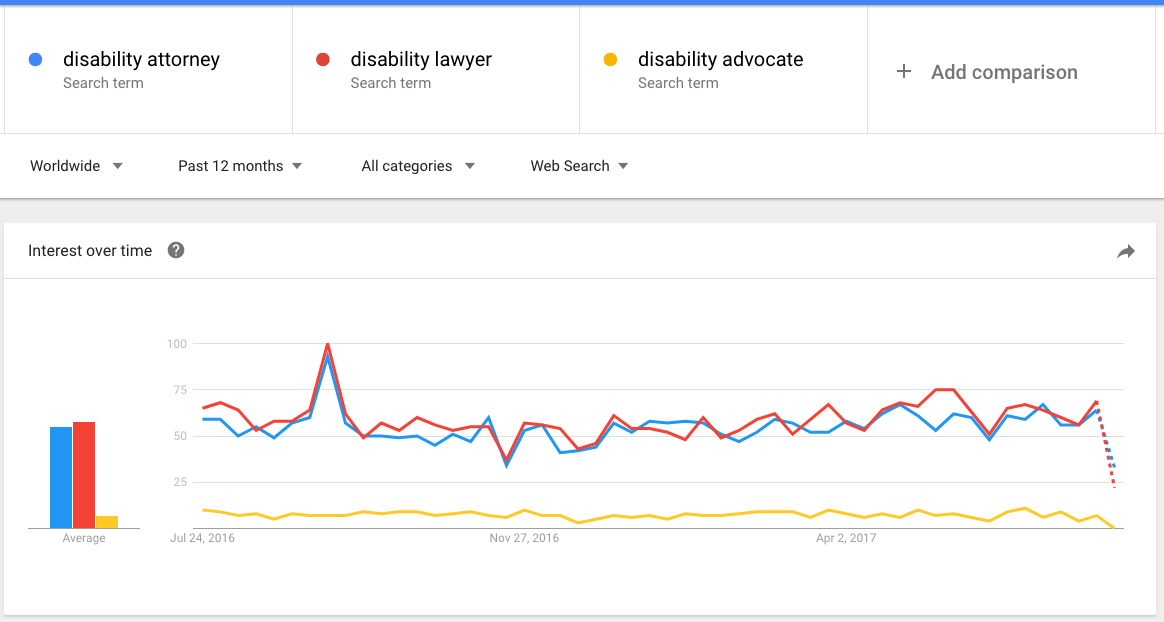 According to this report, there's not any seasonality at all for Social Security disability claimants—Pretty much year-round, someone is looking for a disability attorney. "Disability lawyer" seems to be slightly more popular, but the term "disability advocate" is pretty unpopular. If you are an advocate and not an attorney, you can use this knowledge to your advantage by including keywords on your site that include attorney and lawyer as well as advocate. Using the right keywords is vital for any attorney to ensure that claimants will be able to find your site.
Seasonality and Google Trends
Some areas of law are seasonal. Google Trends can help identify when you'll likely see a dip in traffic to your site or claimants calling your firm. Let's use workers' compensation attorneys as an example: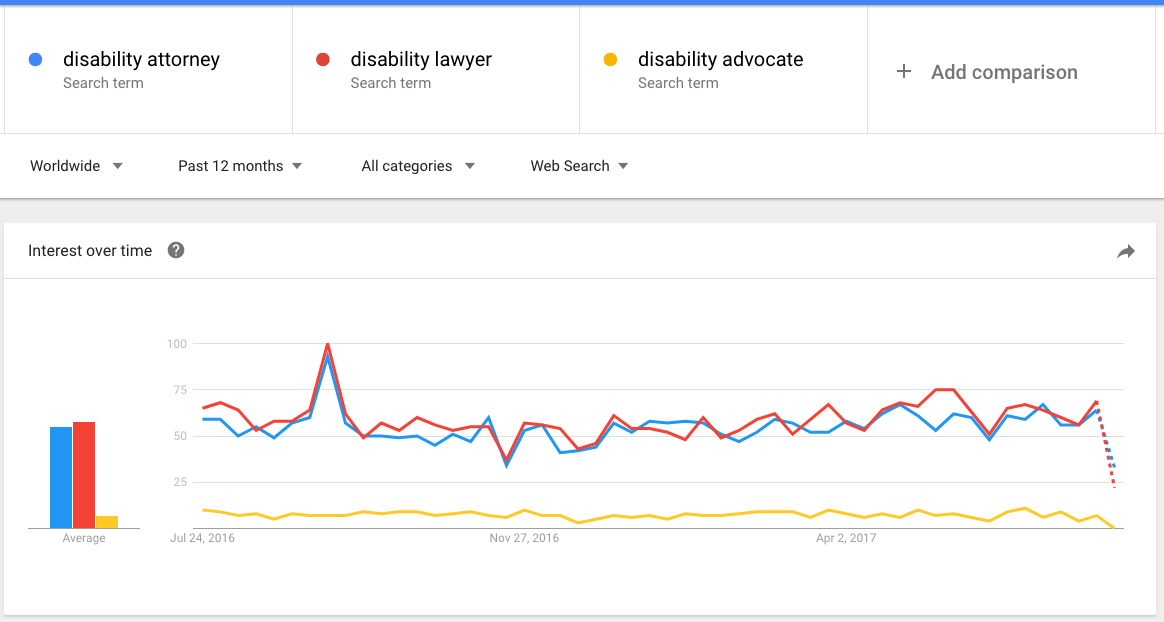 In this report, it's very clear that there are two large drops for workers' compensation searches in November and December. This makes complete sense, as most employees are not working during these times of the year.
If your firm handles workers' compensation claims, you'll likely have a tough time getting clients from November through December, as millions of Americans will be working significantly less than other times of the year. By using Google Trends, you can prepare for "dry spells" by increasing your marketing budget before the holiday season to increase your pending caseload before everyone goes on vacation. You can also focus on other areas of law (if possible) during holiday seasons, such as personal injury or Social Security disability.
Managing It All
Staying on top of Google Trends can be challenging for a full-time marketer, let alone an attorney who's in and out of the courtroom. If you have the budget to hire a full-time digital marketer, it can be a worthwhile investment. Unfortunately, search engine optimization and other content-based marketing campaigns often take a year or more to take off. This leaves your firm strapped for cash with no pending cases.
If you'd like to increase your caseload today with Social Security disability, personal injury, workers' compensation, or employment law leads, give us a call at 617.800.0089. We'd be happy to discuss our lead pricing and nationwide availability with your team today.