The Office of Disability Adjudication and Review (ODAR) is responsible for holding hearings, issuing decisions, and reviewing appeals as part of the Social Security Administration's process for determining and individual's eligibility to receive Social Security Disability Insurance (SSDI), as well as Supplemental Security Income (SSI) benefits. As part of this process, the ODAR oversees hearings at 168 different locations across the United States, and as of September 2014, the average wait time in the United States is 12.5 months for an SSI or SSDI hearing, while the total average time to process a case is 405 days. Overall, the nationwide average for winning a disability case at the hearing level is 44%.
The below map and table shows the weighted average approval rating by state for Social Security Disability cases nationwide. Approval data for each ODAR was compiled from www.ssa.gov/appeals/DataSets/archive/archive_data_reports.html. Please keep in mind however, that this map reflects combined average approval ratings for both fully, as well as partially approved awards. This map also reflects a weighted average, meaning that individual ODAR's location that process a higher volume of cases were given more weight when calculating the overall average.
At eGenerationMarketing, we have been helping disability attorneys and advocates expand their practice in their desired ODAR offices for over 5 years. If you have any questions about how these statistics might affect you or your practice and/or you'd like to learn more about our Social Security Disability (SSD), feel free to contact us or give us a call at 617.800.0089 and discuss how you might leverage these numbers to your advantage.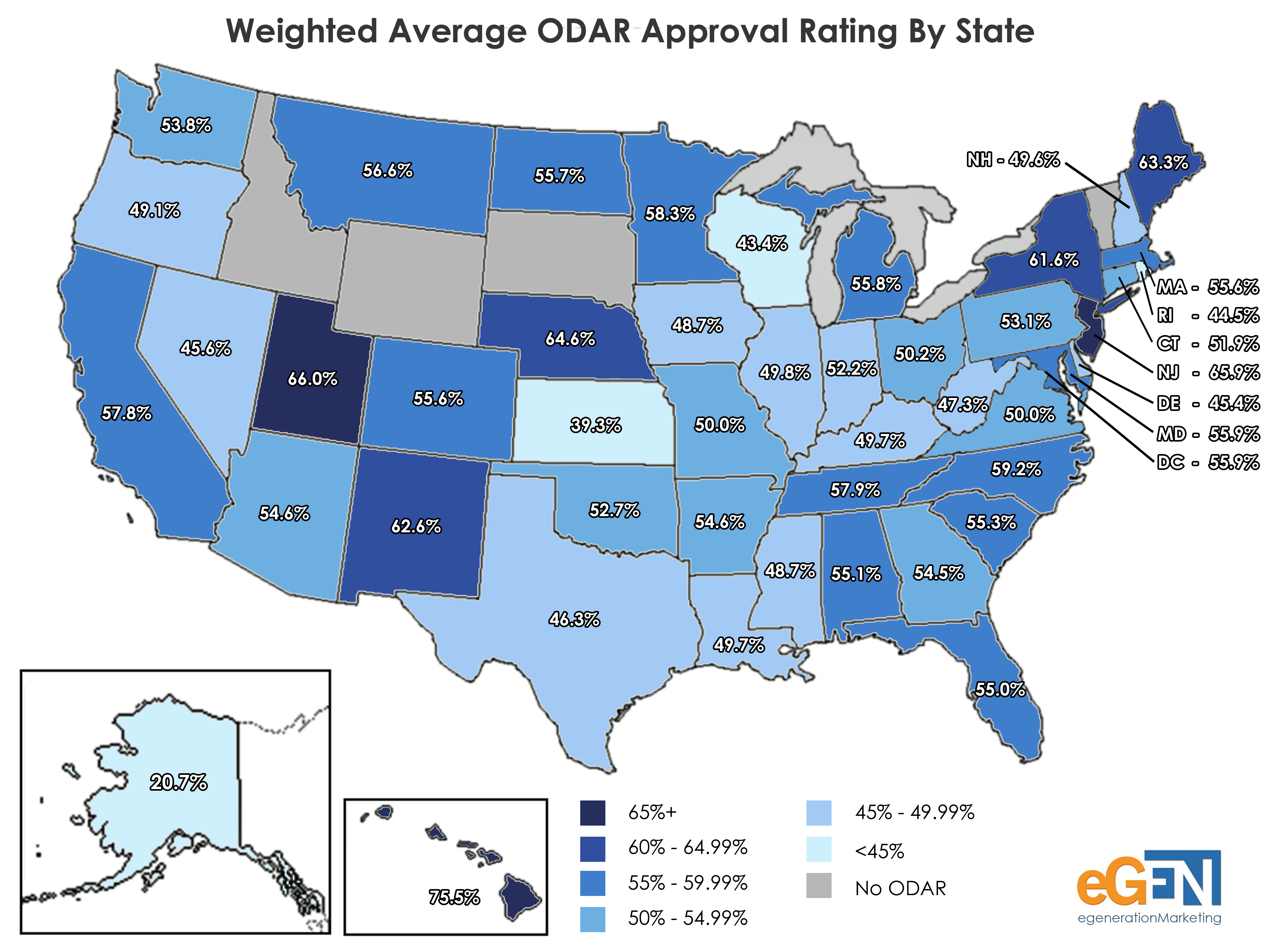 | State | ODAR | % Fully Favorably | % Partially Favorable | % Favorable |
| --- | --- | --- | --- | --- |
| AK | ANCHORAGE | 12.30% | 8.40% | 20.70% |
| AL | BIRMINGHAM | 55.58% | 4.72% | 60.30% |
| AL | FLORENCE | 42.46% | 3.21% | 45.67% |
| AL | MOBILE | 55.89% | 3.60% | 59.49% |
| AL | MONTGOMERY | 45.33% | 4.40% | 49.73% |
| AR | FORT SMITH | 45.26% | 3.29% | 48.55% |
| AR | LITTLE ROCK | 52.49% | 5.00% | 57.49% |
| AZ | PHOENIX | 60.72% | 5.15% | 65.87% |
| AZ | PHOENIX NORTH | 34.88% | 6.46% | 41.34% |
| AZ | TUCSON | 53.45% | 6.70% | 60.15% |
| CA | FRESNO | 38.64% | 9.69% | 48.33% |
| CA | LONG BEACH | 59.02% | 6.42% | 65.43% |
| CA | LOS ANGELES DOWNTOWN | 58.27% | 5.61% | 63.88% |
| CA | LOS ANGELES WEST | 50.44% | 3.07% | 53.51% |
| CA | MORENO VALLEY | 45.80% | 8.35% | 54.15% |
| CA | NORWALK | 52.71% | 9.33% | 62.04% |
| CA | OAKLAND | 62.23% | 4.51% | 66.74% |
| CA | ORANGE | 42.12% | 7.32% | 49.44% |
| CA | PASADENA | 52.14% | 6.30% | 58.45% |
| CA | SACRAMENTO | 52.31% | 7.31% | 59.62% |
| CA | SAN BERNARDINO | 45.29% | 6.25% | 51.54% |
| CA | SAN DIEGO | 54.95% | 12.08% | 67.03% |
| CA | SAN FRANCISCO | 53.52% | 6.89% | 60.41% |
| CA | SAN JOSE | 52.23% | 7.25% | 59.48% |
| CA | SAN RAFAEL | 61.27% | 8.35% | 69.62% |
| CA | SANTA BARBARA | 43.08% | 9.51% | 52.58% |
| CA | STOCKTON | 38.37% | 11.39% | 49.76% |
| CO | COLORADO SPRINGS | 48.94% | 6.26% | 55.20% |
| CO | DENVER | 48.62% | 7.10% | 55.72% |
| CT | HARTFORD | 43.19% | 5.44% | 48.63% |
| CT | NEW HAVEN | 46.20% | 9.08% | 55.28% |
| DC | WASHINGTON | 47.96% | 7.97% | 55.93% |
| DE | DOVER | 32.54% | 12.89% | 45.43% |
| FL | FORT MYERS FL | 27.90% | 5.58% | 33.48% |
| FL | FT LAUDERDALE | 51.22% | 4.60% | 55.82% |
| FL | JACKSONVILLE | 34.06% | 5.45% | 39.50% |
| FL | MIAMI | 46.54% | 4.84% | 51.37% |
| FL | ORLANDO | 53.70% | 7.73% | 61.42% |
| FL | ST PETERSBURG | 52.83% | 7.02% | 59.85% |
| FL | TALLAHASSEE | 52.69% | 6.59% | 59.29% |
| FL | TAMPA | 53.79% | 4.53% | 58.31% |
| GA | ATLANTA DOWNTOWN | 49.63% | 5.53% | 55.16% |
| GA | ATLANTA NORTH | 51.13% | 6.72% | 57.85% |
| GA | AUGUSTA PULLING UNIT | 41.68% | 2.63% | 44.31% |
| GA | COVINGTON | 51.10% | 5.00% | 56.10% |
| GA | MACON | 36.40% | 8.74% | 45.13% |
| GA | SAVANNAH | 50.35% | 5.80% | 56.15% |
| HI | HONOLULU | 66.18% | 9.29% | 75.48% |
| IA | WEST DES MOINES | 43.70% | 5.05% | 48.75% |
| IL | CHICAGO | 45.64% | 7.53% | 53.17% |
| IL | EVANSTON | 57.27% | 7.94% | 65.21% |
| IL | NHC CHICAGO | 30.99% | 4.49% | 35.48% |
| IL | OAK BROOK | 48.02% | 10.81% | 58.83% |
| IL | ORLAND PARK | 49.02% | 6.21% | 55.23% |
| IL | PEORIA | 29.68% | 6.95% | 36.63% |
| IN | EVANSVILLE | 44.58% | 6.52% | 51.11% |
| IN | FORT WAYNE | 42.42% | 5.05% | 47.47% |
| IN | INDIANAPOLIS | 49.46% | 4.32% | 53.78% |
| IN | VALPARAISO IN | 47.00% | 6.80% | 53.81% |
| KS | TOPEKA | 30.14% | 7.62% | 37.76% |
| KS | WICHITA | 36.96% | 3.31% | 40.27% |
| KY | LEXINGTON | 41.93% | 3.51% | 45.44% |
| KY | LOUISVILLE | 47.51% | 4.92% | 52.43% |
| KY | MIDDLESBORO | 45.55% | 1.75% | 47.30% |
| KY | PADUCAH | 53.00% | 6.82% | 59.82% |
| LA | ALEXANDRIA | 41.95% | 6.57% | 48.52% |
| LA | METAIRIE | 36.89% | 5.78% | 42.67% |
| LA | NEW ORLEANS | 55.69% | 7.96% | 63.65% |
| LA | SHREVEPORT | 35.63% | 5.48% | 41.10% |
| MA | BOSTON | 48.31% | 7.80% | 56.11% |
| MA | LAWRENCE | 56.00% | 10.67% | 66.67% |
| MA | SPRINGFIELD | 35.98% | 10.43% | 46.41% |
| MD | BALTIMORE | 49.78% | 7.09% | 56.87% |
| MD | NHC BALTIMORE | 48.60% | 6.15% | 54.75% |
| ME | PORTLAND | 58.55% | 4.78% | 63.33% |
| MI | DETROIT | 43.94% | 8.40% | 52.34% |
| MI | FLINT | 49.71% | 9.66% | 59.36% |
| MI | GRAND RAPIDS | 38.18% | 6.37% | 44.55% |
| MI | LANSING | 49.71% | 5.10% | 54.81% |
| MI | LIVONIA | 54.96% | 7.00% | 61.96% |
| MI | MT PLEASANT | 51.35% | 5.81% | 57.16% |
| MI | OAK PARK | 53.23% | 5.65% | 58.88% |
| MN | MINNEAPOLIS | 52.32% | 5.96% | 58.28% |
| MO | COLUMBIA MO | 43.79% | 5.79% | 49.58% |
| MO | CREVE COEUR | 57.47% | 6.24% | 63.71% |
| MO | KANSAS CITY | 36.46% | 5.50% | 41.96% |
| MO | NHC ST LOUIS | 44.08% | 5.93% | 50.02% |
| MO | SPRINGFIELD | 32.27% | 2.78% | 35.05% |
| MO | ST LOUIS | 50.61% | 6.37% | 56.98% |
| MS | HATTIESBURG | 35.14% | 6.98% | 42.12% |
| MS | JACKSON | 50.10% | 3.99% | 54.10% |
| MS | TUPELO | 43.61% | 6.11% | 49.72% |
| MT | BILLINGS | 52.69% | 3.88% | 56.57% |
| NC | CHARLOTTE | 56.74% | 6.03% | 62.77% |
| NC | FAYETTEVILLE | 45.64% | 6.15% | 51.78% |
| NC | GREENSBORO | 59.46% | 9.46% | 68.92% |
| NC | RALEIGH | 49.49% | 5.79% | 55.27% |
| ND | FARGO | 48.03% | 7.63% | 55.66% |
| NE | OMAHA | 60.09% | 4.55% | 64.63% |
| NH | MANCHESTER | 43.57% | 5.99% | 49.56% |
| NJ | JERSEY CITY | 51.31% | 6.40% | 57.71% |
| NJ | NEWARK | 55.40% | 7.17% | 62.56% |
| NJ | SOUTH JERSEY | 65.68% | 10.71% | 76.39% |
| NM | ALBUQUERQUE | 66.48% | 5.18% | 71.66% |
| NM | NHC ALBUQUERQUE | 36.39% | 8.04% | 44.43% |
| NV | LAS VEGAS | 39.26% | 10.56% | 49.82% |
| NV | RENO NV | 27.02% | 7.42% | 34.44% |
| NY | ALBANY | 62.22% | 7.63% | 69.85% |
| NY | BRONX | 49.49% | 4.78% | 54.27% |
| NY | BROOKLYN | 57.58% | 6.98% | 64.55% |
| NY | BUFFALO | 51.48% | 6.59% | 58.07% |
| NY | JERICHO | 68.04% | 4.63% | 72.68% |
| NY | NEW YORK | 51.81% | 6.52% | 58.34% |
| NY | QUEENS | 62.61% | 6.85% | 69.46% |
| NY | ROCHESTER | 58.13% | 6.14% | 64.27% |
| NY | SYRACUSE | 49.23% | 7.19% | 56.42% |
| NY | WHITE PLAINS | 43.07% | 5.92% | 48.98% |
| OH | AKRON OH | 46.48% | 6.48% | 52.96% |
| OH | CINCINNATI | 43.40% | 5.99% | 49.39% |
| OH | CLEVELAND | 37.41% | 6.17% | 43.58% |
| OH | COLUMBUS | 46.34% | 7.69% | 54.03% |
| OH | DAYTON | 39.57% | 6.47% | 46.03% |
| OH | TOLEDO OH | 46.25% | 8.53% | 54.78% |
| OK | MCALESTER | 33.53% | 4.49% | 38.02% |
| OK | OKLAHOMA CITY | 51.28% | 4.93% | 56.22% |
| OK | TULSA | 49.16% | 5.61% | 54.76% |
| OR | EUGENE | 44.06% | 7.65% | 51.71% |
| OR | PORTLAND OR | 40.33% | 7.33% | 47.66% |
| PA | ELKINS PARK | 57.14% | 6.20% | 63.35% |
| PA | HARRISBURG | 49.95% | 4.80% | 54.75% |
| PA | JOHNSTOWN | 51.11% | 3.61% | 54.72% |
| PA | PHILADELPHIA | 52.25% | 5.99% | 58.24% |
| PA | PHILADELPHIA EAST | 38.17% | 5.77% | 43.94% |
| PA | PITTSBURGH | 46.25% | 5.41% | 51.67% |
| PA | SEVEN FIELDS | 41.10% | 7.80% | 48.89% |
| PA | WILKES BARRE | 40.20% | 5.78% | 45.98% |
| PR | MAYAGUEZ | 46.36% | 4.64% | 50.99% |
| PR | PONCE | 55.01% | 2.04% | 57.06% |
| PR | SAN JUAN | 69.19% | 2.50% | 71.69% |
| RI | PROVIDENCE | 41.24% | 3.27% | 44.51% |
| SC | CHARLESTON | 46.36% | 3.70% | 50.06% |
| SC | COLUMBIA | 52.11% | 4.32% | 56.43% |
| SC | GREENVILLE | 56.83% | 3.56% | 60.38% |
| TN | CHATTANOOGA | 60.72% | 4.48% | 65.19% |
| TN | FRANKLIN | 55.82% | 6.20% | 62.02% |
| TN | KINGSPORT | 63.03% | 1.89% | 64.92% |
| TN | KNOXVILLE | 49.57% | 2.63% | 52.20% |
| TN | MEMPHIS | 47.34% | 5.06% | 52.40% |
| TN | NASHVILLE | 43.90% | 6.82% | 50.72% |
| TX | DALLAS DOWNTOWN | 44.14% | 7.21% | 51.35% |
| TX | DALLAS NORTH | 45.19% | 6.56% | 51.75% |
| TX | FORT WORTH | 39.27% | 6.94% | 46.21% |
| TX | HOUSTON NORTH | 40.80% | 5.90% | 46.71% |
| TX | HOUSTON-BISSONNET | 37.36% | 4.32% | 41.68% |
| TX | RIO GRANDE VALLEY | 31.66% | 8.22% | 39.88% |
| TX | SAN ANTONIO | 35.82% | 6.06% | 41.88% |
| UT | SALT LAKE CITY | 58.37% | 7.64% | 66.01% |
| VA | CHARLOTTESVILLE | 35.94% | 6.11% | 42.05% |
| VA | NHC FALLS CHURCH | 38.33% | 8.08% | 46.41% |
| VA | NORFOLK | 45.26% | 7.30% | 52.56% |
| VA | RICHMOND | 42.87% | 9.00% | 51.87% |
| VA | ROANOKE | 50.86% | 6.98% | 57.84% |
| WA | SEATTLE | 33.39% | 6.71% | 40.11% |
| WA | SPOKANE | 63.02% | 4.50% | 67.51% |
| WA | TACOMA | 56.28% | 6.02% | 62.30% |
| WI | MADISON | 38.20% | 10.84% | 49.04% |
| WI | MILWAUKEE | 31.02% | 9.30% | 40.32% |
| WV | CHARLESTON | 49.64% | 4.25% | 53.89% |
| WV | HUNTINGTON | 38.05% | 4.09% | 42.14% |
| WV | MORGANTOWN | 35.57% | 5.21% | 40.78% |