As a Social Security disability attorney or representative you know that the rates for awarding benefits vary greatly depending on the Hearing Office. Therefore it is extremely helpful to know where each stands but can be difficult to find from the data that the SSA provides. Therefore, we have put together an updated list of approval rates by hearing office for 2021. These approval rates are based off of decisions made from September 26, 2020 through April 30, 2021.
The approval ratings vary significantly by hearing office. Currently the highest is 67.16% and the lowest at 25.58%. The national average of favorable decisions is 48.85%. Therefore, the hearing office where a claim is heard can affect the outcome of the case and whether or not an award is granted.
Here is a list of the 10 offices with the highest award percentages::
New York Varick, NY – 67.16%
San Rafael, CA – 66.00%
Long Island, NY – 65.95%
Ponce, PR – 65.59%
San Jose, CA – 65.44%
Honolulu, HI – 65.40%
Rochester, NY – 65.13%
Oak Park, MI – 64.44%
Sacramento, CA – 63.43%
Greensboro, NC – 60.83%
eGenerationMarketing offers geographic targeting by zip code prefix, allowing you to receive leads that report to a specific OHO. To learn more about our Social Security disability leads, give us a call today at 617.800.0089.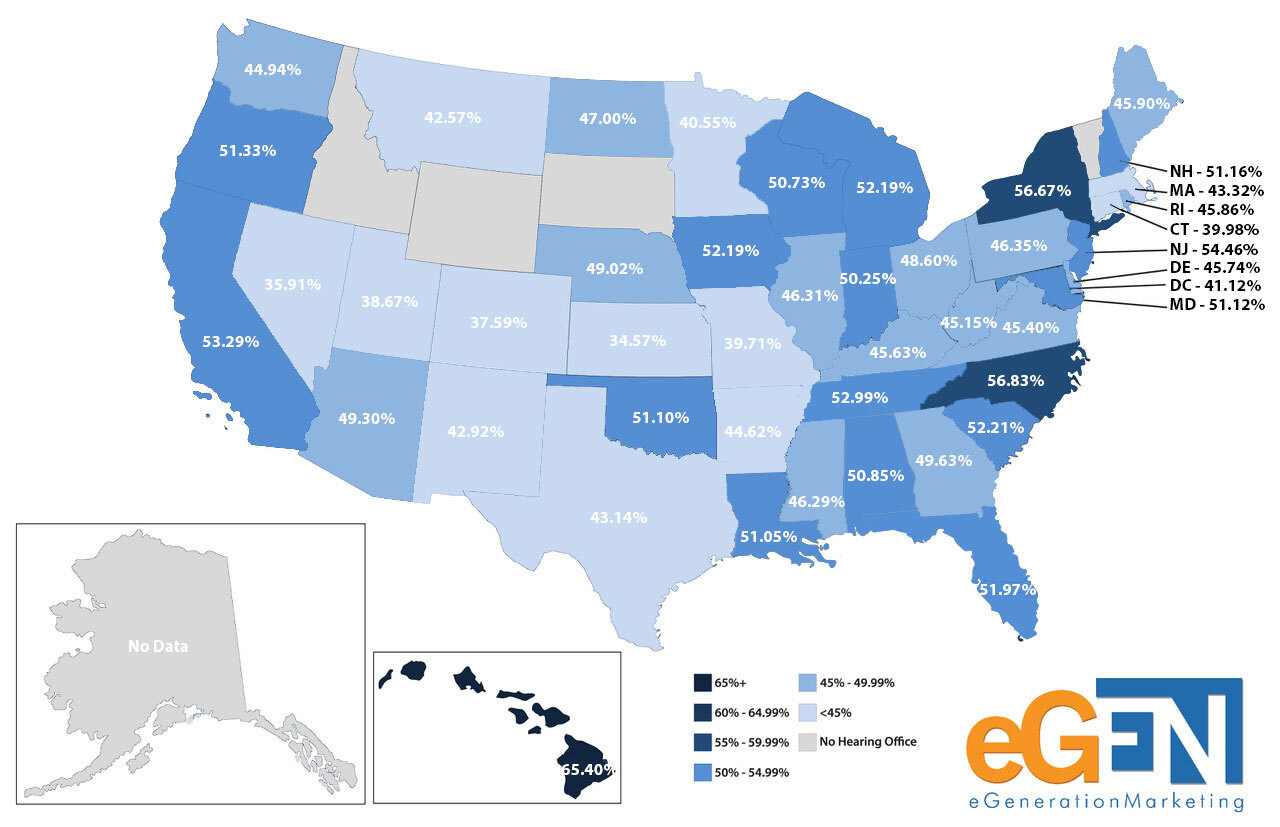 | | | |
| --- | --- | --- |
| State | Hearing Office | % Favorable |
| AL | BIRMINGHAM | 44.38% |
| AL | FLORENCE | 46.64% |
| AL | MOBILE | 54.61% |
| AL | MONTGOMERY | 57.77% |
| AR | FORT SMITH | 51.20% |
| AR | LITTLE ROCK | 38.05% |
| AZ | PHOENIX DOWNTOWN | 40.65% |
| AZ | PHOENIX NORTH | 49.96% |
| AZ | TUCSON | 57.29% |
| CA | FRESNO | 54.26% |
| CA | LONG BEACH | 53.32% |
| CA | LOS ANGELES DOWNTOWN | 47.81% |
| CA | LOS ANGELES WEST | 49.22% |
| CA | MORENO VALLEY | 47.64% |
| CA | NORWALK | 52.88% |
| CA | OAKLAND | 53.72% |
| CA | ORANGE | 48.02% |
| CA | PASADENA | 53.66% |
| CA | SACRAMENTO | 63.43% |
| CA | SAN BERNARDINO | 53.72% |
| CA | SAN DIEGO | 42.63% |
| CA | SAN FRANCISCO | 56.68% |
| CA | SAN JOSE | 65.44% |
| CA | SAN RAFAEL | 66.00% |
| CA | SANTA BARBARA | 47.67% |
| CA | STOCKTON | 49.77% |
| CO | COLORADO SPRINGS | 29.97% |
| CO | DENVER | 45.20% |
| CT | HARTFORD | 39.82% |
| CT | NEW HAVEN | 40.13% |
| DC | WASHINGTON | 41.12% |
| DE | DOVER | 45.74% |
| FL | FORT MYERS FL | 55.36% |
| FL | FT LAUDERDALE | 44.86% |
| FL | JACKSONVILLE | 49.44% |
| FL | MIAMI OHO | 49.85% |
| FL | ORLANDO | 53.45% |
| FL | ST PETERSBURG | 52.14% |
| FL | TALLAHASSEE | 54.59% |
| FL | TAMPA OHO | 56.07% |
| GA | ATLANTA DOWNTOWN | 55.46% |
| GA | ATLANTA NORTH | 50.00% |
| GA | COVINGTON GA | 50.18% |
| GA | MACON | 39.86% |
| GA | SAVANNAH | 52.67% |
| HI | HONOLULU | 65.40% |
| IA | WEST DES MOINES | 52.19% |
| IL | CHICAGO | 51.56% |
| IL | EVANSVILLE | 45.45% |
| IL | NHC CHICAGO | 40.85% |
| IL | OAK BROOK | 55.63% |
| IL | ORLAND PARK | 40.52% |
| IL | PEORIA | 43.85% |
| IN | EVANSTON | 49.74% |
| IN | FORT WAYNE | 50.21% |
| IN | INDIANAPOLIS | 50.31% |
| IN | VALPARAISO | 50.75% |
| KS | TOPEKA | 29.79% |
| KS | WICHITA | 39.35% |
| KY | LEXINGTON | 48.17% |
| KY | LOUISVILLE | 53.44% |
| KY | MIDDLESBORO | 34.45% |
| KY | PADUCAH | 46.47% |
| LA | ALEXANDRIA | 44.39% |
| LA | METAIRIE | 49.15% |
| LA | NEW ORLEANS | 57.26% |
| LA | SHREVEPORT | 53.38% |
| MA | BOSTON | 41.00% |
| MA | LAWRENCE MA | 49.92% |
| MA | SPRINGFIELD | 39.03% |
| MD | BALTIMORE | 57.17% |
| MD | NHC BALTIMORE | 45.07% |
| ME | PORTLAND | 45.90% |
| MI | DETROIT | 54.63% |
| MI | FLINT | 48.06% |
| MI | GRAND RAPIDS | 49.40% |
| MI | LANSING | 46.38% |
| MI | LIVONIA MI | 55.74% |
| MI | MT PLEASANT MI | 46.69% |
| MI | OAK PARK | 64.44% |
| MN | MINNEAPOLIS | 40.55% |
| MO | COLUMBIA MO | 43.80% |
| MO | CREVE COEUR | 39.36% |
| MO | KANSAS CITY | 35.34% |
| MO | NHC ST LOUIS | 44.68% |
| MO | SPRINGFIELD | 29.68% |
| MO | ST LOUIS | 45.42% |
| MS | HATTIESBURG | 37.04% |
| MS | JACKSON MS OHO | 44.61% |
| MS | TUPELO | 57.21% |
| MT | BILLINGS | 42.57% |
| NC | CHARLOTTE | 55.96% |
| NC | FAYETTEVILLE NC | 59.08% |
| NC | GREENSBORO | 60.83% |
| NC | RALEIGH | 51.44% |
| ND | FARGO | 47.00% |
| NE | OMAHA | 49.02% |
| NH | MANCHESTER | 51.16% |
| NJ | JERSEY CITY | 60.27% |
| NJ | NEWARK | 48.44% |
| NJ | SOUTH JERSEY | 54.69% |
| NM | ALBUQUERQUE | 48.76% |
| NM | NHC ALBUQUERQUE | 37.08% |
| NV | LAS VEGAS | 46.24% |
| NV | RENO | 25.58% |
| NY | ALBANY | 50.74% |
| NY | BRONX | 57.21% |
| NY | BUFFALO | 46.14% |
| NY | LONG ISLAND | 65.95% |
| NY | NEW YORK | 56.80% |
| NY | NEW YORK VARICK | 67.16% |
| NY | QUEENS | 57.02% |
| NY | ROCHESTER | 65.13% |
| NY | SYRACUSE | 42.57% |
| NY | WHITE PLAINS | 58.00% |
| OH | AKRON | 51.86% |
| OH | CINCINNATI | 48.72% |
| OH | CLEVELAND | 41.64% |
| OH | COLUMBUS | 49.22% |
| OH | DAYTON | 54.62% |
| OH | TOLEDO | 45.55% |
| OK | MCALESTER | 37.71% |
| OK | OKLAHOMA CITY | 57.99% |
| OK | TULSA | 57.60% |
| OR | EUGENE | 54.39% |
| OR | PORTLAND | 48.26% |
| PA | ELKINS PARK | 48.19% |
| PA | HARRISBURG | 40.83% |
| PA | JOHNSTOWN | 49.92% |
| PA | PHILADELPHIA | 45.98% |
| PA | PHILADELPHIA EAST | 48.27% |
| PA | PITTSBURGH | 40.32% |
| PA | SEVEN FIELDS | 55.96% |
| PA | WILKES BARRE | 41.31% |
| PR | PONCE | 65.59% |
| PR | SAN JUAN | 54.46% |
| RI | PROVIDENCE | 45.86% |
| SC | CHARLESTON SC | 44.24% |
| SC | COLUMBIA SC | 57.86% |
| SC | GREENVILLE | 54.52% |
| TN | CHATTANOOGA | 55.86% |
| TN | FRANKLIN TN | 43.64% |
| TN | KINGSPORT | 60.06% |
| TN | KNOXVILLE | 50.16% |
| TN | MEMPHIS | 54.28% |
| TN | NASHVILLE | 53.91% |
| TX | DALLAS DOWNTOWN | 48.79% |
| TX | DALLAS NORTH OHO | 47.63% |
| TX | FORT WORTH | 44.26% |
| TX | HOUSTON NORTH | 41.97% |
| TX | HOUSTON WEST | 47.80% |
| TX | RIO GRANDE VALLEY TX | 34.28% |
| TX | SAN ANTONIO | 37.24% |
| UT | SALT LAKE CITY | 38.67% |
| VA | CHARLOTTESVILLE | 50.38% |
| VA | NHC FALLS CHURCH | 44.91% |
| VA | NORFOLK | 45.53% |
| VA | RICHMOND | 37.45% |
| VA | ROANOKE | 48.76% |
| WA | SEATTLE | 45.65% |
| WA | SPOKANE | 50.87% |
| WA | TACOMA | 38.30% |
| WI | MADISON | 56.23% |
| WI | MILWAUKEE | 45.23% |
| WV | CHARLESTON WV | 55.63% |
| WV | HUNTINGTON WV | 39.57% |
| WV | MORGANTOWN | 40.25% |
*https://www.ssa.gov/appeals/DataSets/03_ALJ_Disposition_Data.html